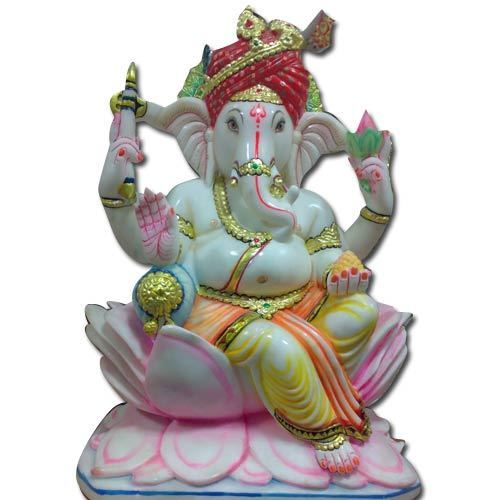 An exceptional variety of Ganesh Ji Statues can be availed from us at affordable prices. These statues are ideal for decorative & gifting purposes and can be purchased in a number of designs. The lord Ganesh is a highly auspicious figure in the Hindu faith and is known for ushering in prosperity, wealth and happiness.
Immaculate Marble Ganesh Ji Statues are being offered by us. The makrana marble used for carving these statues is sourced from highly prestigious vendors, who hold a high place in the stoning industry. These statues can be availed in large sizes as well as smaller figurines.
Immaculate Ganesh Statues can be purchased from us in exceptional designs. This deity is highly revered in the Hindu pantheon and worshiped all around the country. Our range of statues is highly demanded during the season of Ganesh Chaturthi, when the deity is immersed in water.
A majestic range of Marble Ganesh Ji Statues are being offered by us within a reasonable price range. Statues have been used for centuries for a number of purposes, including worship or commemoration. Our collection is designed to last for a lifetime and features the grandeur of our cultural civilization.
Devotees of the deity Ganesha can avail from us an exquisite variety of Lord Ganesha Statues. These marble religious statues have been designed by expert craftsmen and finished with flawless perfection. Moreover, these are carved out of hard and qualitative marble, which is reliably sourced from renowned vendors.